Solar Off Grid Calculator
Solar Off Grid Calculator is a Handy windows PC application which can be used to determine the Solar Panel, Inverter and battery size required for your Home and Offices for your load configuration. It is simple, portable and easy to use app with clear instructions. Just input the load configuration of your home or office which require backup power during grid failure, and thats it, with one click away you will get the required PV configuration.
If you are Green Energy professional, you might be interested in EAI club (India's largest and most active renewable energy community).
Features:
Portable, simple and intuitive user interface
Calculates monthly unit consume and bill amount
Provides suggestion on Solar Module Wp requried in KWp , Inverter in KVA and Battery size and Solar Fraction details
Print the final configuration with single click
Download it now
Screenshots: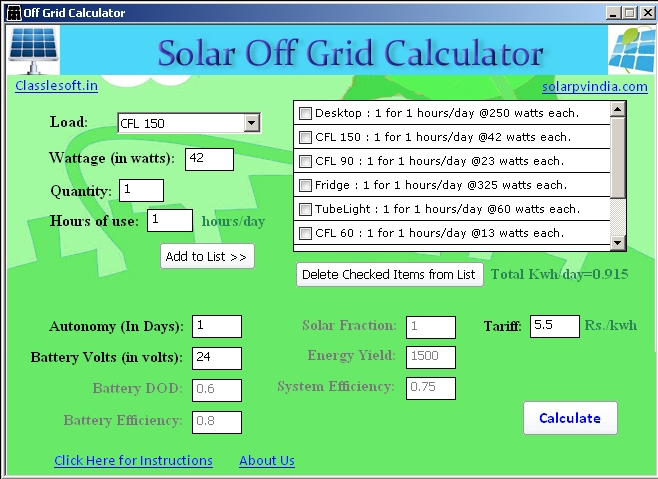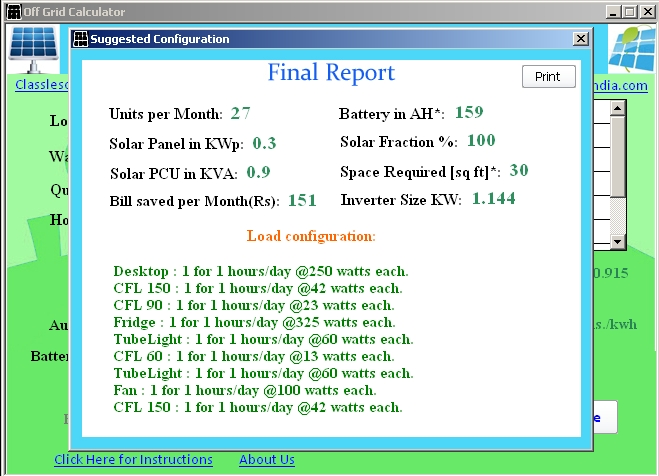 "Clear-cut application which suggests a solar PV configuration for your home or office, based on the amount of energy you consume on a daily basis" – Softpedia Review
Read full review from following link: http://www.softpedia.com/get/System/System-Miscellaneous/Off-Grid-Calculator.shtml