According to the National Institute of Occupational Safety and Health, computer vision syndrome affects some 90% of the people who spend three hours or more a day at a computer.Are you an avid computer user? Do you sit long hours in-front of your computer? This habit will definitely get you eye sight related problems. So, it's better you should realize the fact before your eyes got affected and use EyePro.
EyePro reminds to take breaks regularly, shows you simple eye exercises which you can try easily, simplified&informative info about some facts related to eyes and prevents you from getting Computer Vision Syndrome. By following EyePro's instructions and regulations will result in less physical fatigue.
| | | |
| --- | --- | --- |
| What is EyePro? | Who is Eye Pro for? | Why to use Eye Pro? |
| EyePro is a work stress relieving and Eye Healthware that regularly reminds you to take "Breaks for your Eyes" with many exciting, customizable and Innovative features. It is an innovative tool done under the guidance of eminent Eye Doctor | Everyone who spends more than a 2 hours per day looking at a display. But especially People who spend ot of time in-front of PC, Employees with Computer related job environment, Students, Computer Professionals, will find the program particularly helpful. | Working at a computer leads to eye strains and several problems like "Computer Vision Syndrome","color fringes," "afterimages" and difficulty refocusing. When you are working at a computer it is easy to forget about time and breaks to take resulting above problems. EyePro guarantees you won't forget to take a break. |
| | | |
---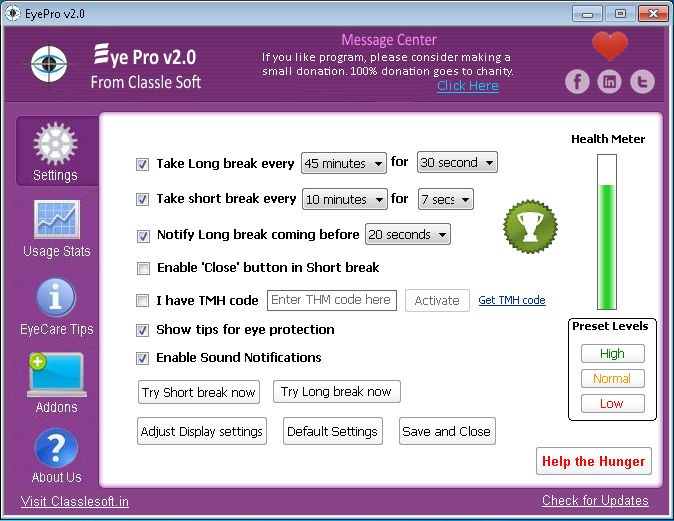 [View ScreenShots] [Download EyePro from FindMySoft] [Download EyePro via INSTALKI.pl]

Features:
Taking Breaks Alerts at custom intervals: Two kind of breaks, Short breaks and long breaks, with eye exercises every at preset customized time intervals. Eye exercises shown by an eye pleasing Tweet bird. Screen blocking long breaks for every Preset time.
In-build Work stress relieving mechanism: It can reduces mental and physical problems caused due to mental stress. It eases your work tensions by giving positive suggestions, jokes and other funny stuff. It will be a good companion for sure and makes you smile often.
Automatic adaptability: By activating "THM" mode, the program will automatically adjust its settings according to your current eye status. Answer a 2 minute questionnaire which estimates your present eye status and generates a suitable THM code.
Done under guidance of eminent eye specialists: This unique program is done under guidance of eminent eye specialists which ensures accuracy in working.
Data Analysis with usage summery reports: Program usage statistics will enable you utilize the program with maximum efficiency and benefit. It also gives you timely suggestion to improve your ability to adopt taking breaks at regular intervals.
Several unique Add-on Tools and Vision Therapy: It is equipped with several add-ons like Screen filters and Eye Therapy using several eye exercising games. Vision Therapy can rectify common eye problems and improve various skills. Adjust display settings with just 1 click of a button to minimize eye strains.
It is more than just a software: We believe, It is more than just a software with its amazing features and benefits. It can relieve you from eye strains and work stress. Displays Facts and tips related to eye during breaks. It can even make you smile often. With its eye pleasing and User friendly Interface makes you fall in love 😛
User participation in research for future improvements: Users can participate in research by submitting their usage stats regularly with help us to analyze the usage data and thus it can improve future version releases.
Other Amazing features:
Sound Notifications with background Speech.
Simplified and distributive intuitive Help section and suggestions.
Fully Customizable parameters according to your PC usage.
Notifications announcing a long break coming.
Multi-monitor system support.
Health Meter which indicates the status of improvement due to regular use of EyePro.
Whats new in version 3?
Screen filters and add-on tools.
In-build work stress relieving mechanism.
Eye pleasing and User friendly Interface.
Vision Therapy feature to rectify common eye problems and improve various skills.
Adjustable short break duration.
Trophy and awards section.
Multi-language support (partially).
Improved Eye care tips section (eye care tips in picture mode).
Usage stats submission.
windows 8 compatible